i-Protect Antibacterial Pen - Now in Stock
i-Protect Antibacterial Pen - Now in Stock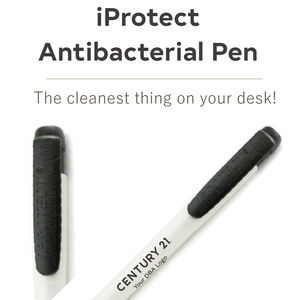 Bacteria can thrive and survive on surfaces for many weeks, if not months. Your favourite pen is no exception. Used throughout the day, it gets placed on many different surfaces, we tuck them behind our ears, use them to pin up our hair and we may even chew them thoughtfully whilst we seek inspiration. Each time transferring bacteria to the pen and vice-versa.
Not only this, but there is every chance your pen is also lent to your colleagues, too – adding to the increasing microbial contamination.
The solution? An antibacterial pen of course.
The i-Protect pen is a plunger action and Guarantees 99.9% Protection Against Bacteria.    To achieve this Antibacterial Additive is applied in the production cycle to ensure effacy.
The Pen is Water, Scratch and UV Proof.
White with Black trim printed with your CENTURY 21 DBA Logo.
Your clients will love these.
Stock has arrived!